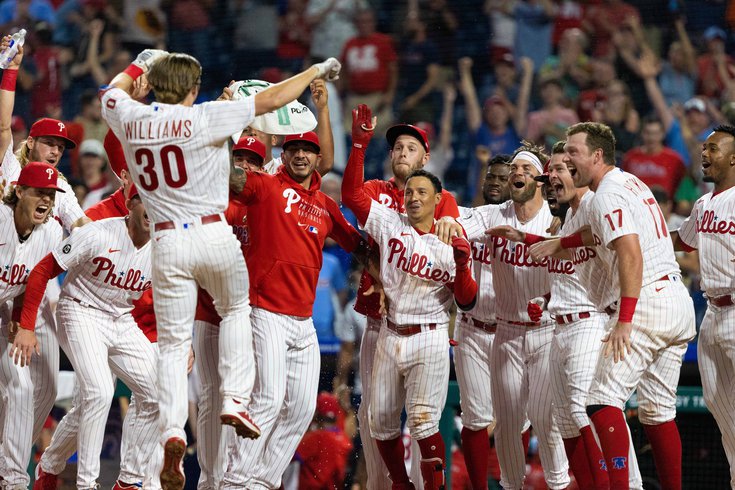 Can 24-year-old Luke Williams, a former third round pick utility man from California who before a month ago had never even sniffed the Triple-A level, save the Phillies season?
No, probably not.
It's a hyperbolic exaggeration to exclaim — like Mitch Williams did on Phillies Postgame Live following his dramatic and emotional walk-off home run to beat the Braves — that Luke Williams will beat out Alec Bohm for the starting third baseman job, win Rookie of the Year and become a superstar based on two games, one start and one homer.
But it isn't too much of a stretch to say that the walk-off he hit to left field, the first of his pro career (and first since he was in high school) after he failed to hit a single homer in 18 games in Lehigh Valley, may spark the Phillies and perhaps wake them up from their sleepwalk through the first 60 games of the 2021 season.
"You just think about the 10 day period that he's had," Phillies manager Joe Girardi said after the 2-1 win. "What he did for USA Baseball, the tournament he had there, then to be called up. His parents were in South Florida, flew all the way back to California on [Tuesday morning] and then were back here to witness his first hit and his home run, pretty special time for that family."
Philadelphia is 29-31 and a few games back in the race for the NL East. They have a negative run differential, few players performing like All-Stars and a variety of short-comings, not the least of which is an unreliable bullpen.
But they have a ton of talent — they've just been unable to really strike when they have been required to. Prior to Williams' walk-off, Philly had gone 10-9 in 19 one-run games and had relented twice as many walk offs as they mustered themselves.
The Phillies, in hitter-friendly Citizens Bank Park, have hit for an uninspired 2.9% home run percentage, well behind the Braves league-leading 4.1%. They strikeout 26.7% of the time, the third most of all 30 MLB teams. They hit for extra bases just 7.1% of the time, a bottom 10 number in the league. They've scored 4.24 runs per game and have allowed 4.49.
They are boring.
At least they usually are. Wednesday night they weren't. And of course, Bryce Harper claimed he knew it was coming.
"He said that he felt it," Williams said of his long celebratory embrace with the $330 million man. "He felt that something special was coming and for him to think that, to believe that I can have an effect on this team is pretty special and just his support — everyone in that clubhouse — it's awesome."
Some practical questions surrounding Williams, who was a red-hot hitting .444 (8 for 18) with a double, a triple, a homer and six RBI playing for Team USA, remain. Will his heroics earn him more starts, with Bohm still the third baseman of the future and Didi Gregorius nearing his return to the lineup (he's starting his rehab this week in Triple-A)?
Will he be just another flash in the pan, like the recently demoted Nick Maton was?
"You feel good when he got up there," Girardi said. "He's shown a lot of different things already. He's shown he can drag bunt, he's showed he can run, that he can play multiple positions, that's one of the reasons we brought him up."
The timing is certainly good. The Phillies have a brutal stretch ahead with the Yankees coming to town this weekend and a trip out west to face the Dodgers and Giants in California just on the horizon. If they lose all of those series they could be well behind in their division before they get back home. They also just took struggling utilityman Scott Kingery off the 40-man roster, meaning he'll be in the minors for a while looking to fix what ails him.
Williams could spark the Phillies by osmosis. He could earn a starting role. He could just fit in as a valuable bench piece. Or he could be a flash in the pan who'll be back in the minors by Independence Day.
Regardless, his first career homer won't soon be forgotten.
"I'm sure his phone has more text messages right now than he could ever imagine," Girardi said. "I don't know what his encore is."